Connecting Patients with Providers
BHP has invested in technology to make the transition to the next level of care smoother for the patients we care for and for the Providers in our Network.
We have 2 different tools a Provider may choose to utilize, based upon preference for direct scheduling (SchedulR) or scheduling by contacting your clinic (Provider Database). These tools are accessed through our web-based system called Care Connect.
Benefits to you as a Provider:
Providers can customize their Care Connect profile to ensure proper referrals from SchedulR or Provider Database.
Utilize SchedulR:

View/Edit appointments
Have access to patient demographic information when an appointment is scheduled.
Provider Care Connect Expectations:
Updating appointment availability
Complete and thorough Patient and Scheduling Instructions
Marking appointment attendance
Completed Care Connect profile
Providers should contact the patient prior to the appointment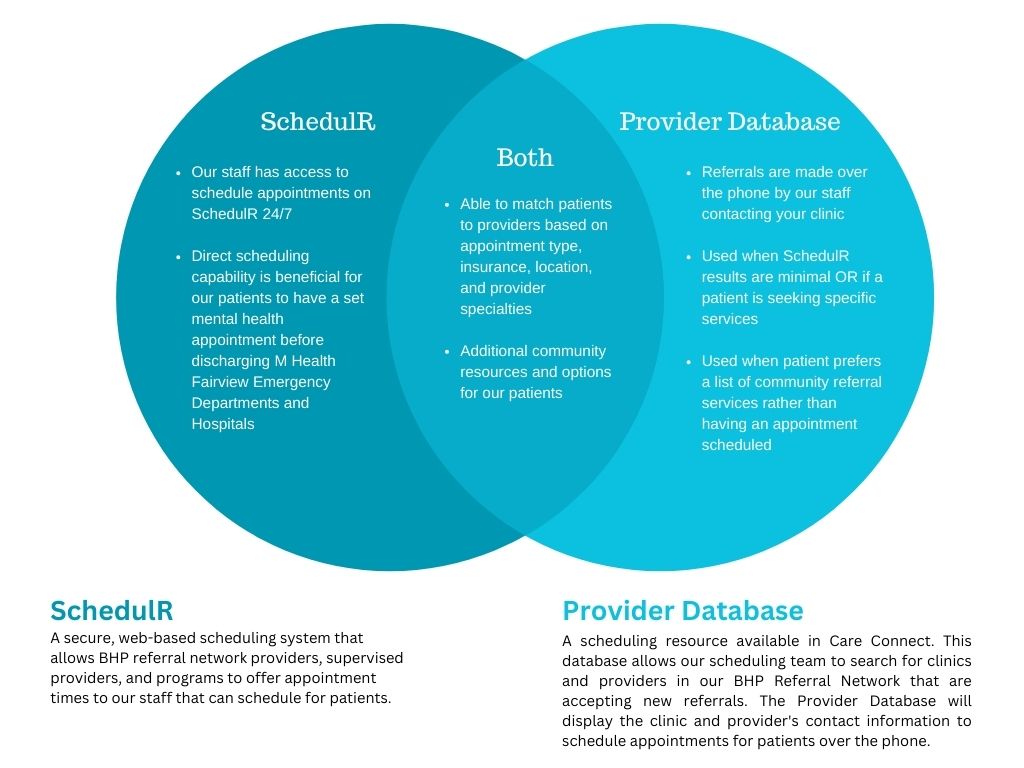 Below are examples of best practices for Scheduling Notes/Patient Instructions when offering appointments on SchedulR:
Scheduling Instructions:
"Supervised Provider Name" is supervised by "Licensed Provider Name." For teletherapy appts: Include patient's email AND phone number for contact info. For clients under 18: <12: The first session is with just the parent/guardian 12-15: Prefer the first session to be with just parent/guardian 16-18: Best if both the parent(s)/guardian(s)and child/adolescent are present. **Parent/Guardian must be present to review paperwork with clinician**
Scheduling Instructions:
Hello, we are now offering Telehealth appointments. Please make sure patient has a device (smartphone, tablet, computer, etc.) that can handle video calls. Once patient is put on schedule, ask them to complete New Patient Form by using following link: "Website Link." Please avoid same day appointments and schedule at least 48 hours ahead of time. Also please note that we only see MN residents.
Patient Instructions:
For all appointments: you will be sent information to fill out the intake paperwork online. Please complete required paperwork prior to your appointment. For telehealth appointments: you will also be sent a link to attend the appointment remotely.
Patient Instructions:
Please complete New Patient Form by using following link: "Website Link." All forms need to be completed 24 hours prior to the appointment date/time by going to "Website Link" Please call us on "Phone Number" 24 hours prior to your scheduled appointment to confirm that you plan to attend. We will provide you information about how to log into video call when you call.
FAQ
1
Can a provider use an appointment offered to BHP on SchedulR®?
Yes. BHP is unable to guarantee that appointments in the SchedulR® will be used, although every effort will be made to do so. Providers are able to delete appointments at any time, provided the appointment has not already been scheduled by BHP and the open time is deleted from the SchedulR®.
2
When are good times to offer appointment openings?
Generally morning, evening, and weekend times are requested by patients. We also suggest using times convenient for your schedule, such as a documentation hour and/or end of the day.
3
Can providers offer appointments at multiple locations?
Yes. Providers can offer appointments at multiple locations. Additional locations can be added to the providers profile by submitting a request to system-nservices@fairview.org.
4
What if a provider receives a referral that is not appropriate?
Please contact the person listed in the email notification at the phone number provided, and they will assist you.
5
What should I do if I have technical difficulties, or have questions about SchedulR®?
If a password has been forgotten, users are able to click the 'Forgot Password/Reset Account' link to reset their password. If you have other technical difficulties, please email us at SYSTEM-Nservices@Fairview.org.
Important Information
BHP referral network provider and programs may request access for the SchedulR® by completing the Access Request Form located below.
To become a BHP referral network provider, please review our Network Provider Information.
For more information you may contact us via email at SYSTEM-Nservices@Fairview.org.